One of the keys to successful selection of a GPS fleet tracking service provider is consideration of the cellular networks they access. Choosing the wrong provider can be an expensive and frustrating lesson. Having some background knowledge of GPS tracking systems and cellular networks can help you make the right choice.
There are two distinct wireless transmissions needed to make real-time GPS tracking work. First are the satellite transmissions from the Global Positioning System. GPS tracking devices require a GPS receiver to capture these satellite signals, which are used to pinpoint the location of the device. To receive that information in real-time, the GPS device must also transmit location information (as well as any other data defined in the GPS service providers plan), via a modem over a cellular network. This is where fleet operators have a choice to make, and there are two critical areas to consider before making that choice.
COVERAGE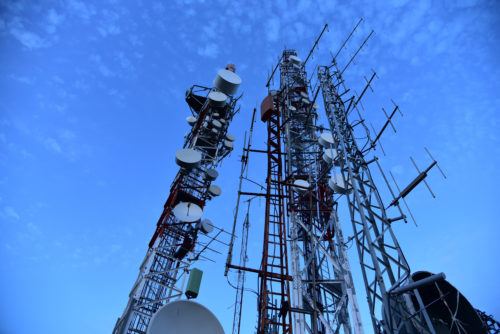 Not all cellular network carriers are created equal. Fleet operators in Canada face very distinct options for a number of reasons. Perhaps none bigger than the size of the country itself. Canada covers almost 10 million square kilometers, while at the same time hosting one of the lowest population densities on the planet. This creates a significant challenge for cellular network builders. Through competition regulation, Canada has encouraged multiple providers to face this challenge – resulting in 99.4% of the Canadian population and 86% of roads and highways having mobile coverage.
However, all of Canada's cellular providers do not necessarily operate in the same area, meaning that choosing the right provider for your geographic location is still important.
PLATFORM
There is also variability in the cellular platforms that carriers operate. Growth in cellular traffic has experienced exponential growth in the past decade, and carriers are still scrambling to upgrade their networks to keep pace. Most people are familiar with the constant evolution in speed to push evermore voice and data through the system (3G, 4G, LTE). Intuitively, faster is better. Less intuitive though, are the two main competing cellular platform protocols that carriers use to build this new speed upon. They are the Global System for Mobiles (GSM) and Code Division Multiple Access (CDMA) platforms.
To describe the evolution of each platform quickly is not exactly an easy task, and would require swimming in an ocean of acronyms. The simplest analogy to describe the adoption of the two platforms might be to compare it to the metric and imperial systems of measurement. Though the U.S. officially sanctioned the metric system in 1866, it remains the only industrialized country that has not adopted it as its official system of measurement. Likewise with cellular platform standards, most of the world is GSM, while the U.S. remains split between the two. In Canada, all major carriers have already converted their network platforms to GSM.
WHY DOES IT MATTER?
GPS tracking systems are an investment for your business. And like other investments, it is simply good practice to do your research to ensure you're making the right choice, as well as minimizing risk. While adding a GPS fleet tracking solution to your business is a low-risk, high-reward decision, there are still a few factors that must be considered before making the final choice.
Factor #1) Choose the GPS tracking provider that offers a cellular partner with the best cellular coverage for your operating area. To ensure fleet operators are getting the most real-time data from the vehicle that the device is attached, it must be within a region of cellular coverage so that the GPS modem can communicate. The experts at AutoConnect GPS can help you find a device and cellular provider that will ensure you get the best coverage possible for your fleet.
Factor #2) Choose GPS devices that are future-equipped. That means an HSPA 3G stage of GSM evolution or higher. As carriers build out their networks to keep up with demand, older technology is abandoned for new. CDMA is all but obsolete in Canada, and the GPRS stage of GSM evolution is nearing that same end. It is important to work with a GPS fleet tracking provider that acknowledges the regular advancements of the technology, and constantly updates their hardware and software to stay ahead.
AutoConnect GPS provides multiple cellular carrier options, and we have a wide variety of GPS devices to suit your fleet's individual needs. Get in touch with one of our experts today and find the right solution for your business.