Garwa Sales Ltd operates three NAPA Auto Parts stores in New Brunswick Canada. Two in Miramichi and the other in Rogersville north of Moncton. NAPA Auto Parts has over 90 years of history and close to 600 stores throughout Canada offering a wide range of replacement parts, accessories, supplies, tools, equipment, and quality products to repair shops, commercial fleet operators, professional mechanics, do-it-yourselfers, and automobile owners.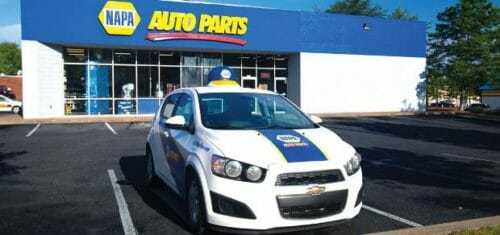 "The police sat in our office and guided the cruiser right to our stolen car. They said it was the easiest stolen vehicle case they had ever had."

"They were very impressed with our system, and we have been too!"

Troy Watt, Owner

Garwa Sales Ltd o/a NAPA Auto Parts
CHALLENGES
Parts sales are the bulk of their business, and auto repair shops within a large territory, a primary customer. Delivery of parts is key to the business model and to serve customers well, Garwa counts on their drivers to deliver orders quickly and efficiently using company vehicles. At any point, drivers leave their stores with up to four or more deliveries at a time. As the business grew, Garwa Sales management was finding it more difficult to keep drivers efficiently scheduled. Scheduling service and maintenance for their vehicle fleet also proved more difficult. A cornerstone of their business, timely and reliable delivery service, was increasingly becoming more difficult to manage.
SOLUTION
The Garwa Sales team was introduced to AutoConnect GPS. Following a successful demonstration of the system, delivery vehicles were outfitted with easy install GPS tracking devices and initial setup and user training completed.
RESULTS
Improvements across the entire fleet were immediately realized. Scheduling of deliveries was more efficient, more exact ETA's provided, and driving behaviour accurately assessed with live monitoring of travel speeds, excessive idling, and engine RPM. Maintenance of vehicles was scheduled within the system to avoid untimely interruptions due to missed service, and customer locations landmarked to alert dispatch of arrivals and departures. An unanticipated benefit was encountered a year after deploying when at the end of one particular workday, a delivery vehicle was discovered missing. It was quickly located in Moncton 167km away using AutoConnect GPS. They contacted the police and showed them where their vehicle was on the mapping dashboard. The officer contacted the Moncton RCMP and guided a cruiser to intercept the vehicle. The perpetrator was detained and charged with theft, and their delivery vehicle quickly returned. Though, swift theft recovery was not one of the original "problems to solve" with Plug N Track GPS Garwa Sales was thrilled to have experienced this unexpected assistance.
See how AutoConnect GPS can help you recover lost or stolen fleet assets quickly and safely! Book a FREE demo today!